AAC Perisher overlooks Front Valley with sweeping views towards Mt Perisher, Sun Valley and the Olympic T-Bar. It is a short downhill ski to Centre Valley and the Village Eight Express, Quad Chair or the ski tube for those heading to Blue Cow and Guthega.
The White Spider restaurant and Man From Snowy River Hotel are a short walk away.
AAC Perisher has 14 rooms and sleeps 26. The bedrooms can be configured as singles or doubles and several rooms accommodate three guests. Each bedroom has a separate ensuite.
The kitchen has been recently upgraded and boasts the finest cooking equipment and utensils. The kitchen has a BBQ grill, gas and electric cooktops, dishwasher, large fridge and freezer and separate cupboard for each room.
A separate area provides a large and comfortable area for informal dining. A spacious living area with comfortable lounges, reading nooks, a gas fireplace and large windows make for a relaxed space to spend an evening after skiing or a relaxing day in the lodge. There is a small library and a plentiful supply of cards and board games.
A games room is set up downstairs for children and teenagers with table tennis, video player and other activities. The lodge also has a sauna.
First Floor

Second Floor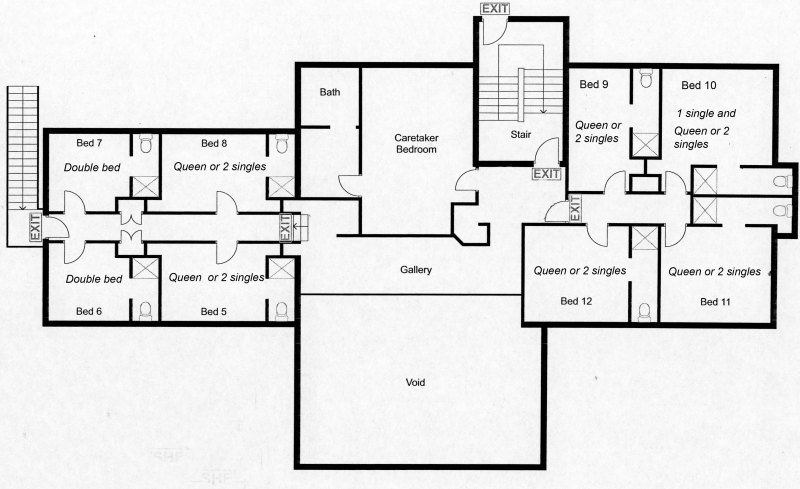 Cross country equipment is available at no charge for members and guests wanting to try out the Nordic Trails or perhaps venture up to Charlottes Pass or beyond.
During Winter a full time Manager is on site to make sure that the lodge runs smoothly. Each room is thoroughly cleaned for guest on arrival and linen is provided.
Whilst Winter is what brings people to the lodge, summer, spring and autumn are magnificent times of the year- offering delights of nature, relaxation and excitement in equal measure.